Texas Edition Grill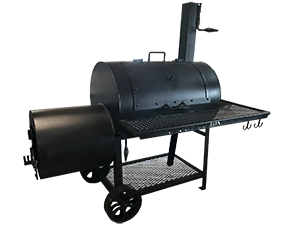 32" x 70" x 64" tall with 19" diameter firebox and steel work surface. Constructed from 10 Ga. carbon steel. #9X3/4" flattened expanded metal grills and shelves. Smoker/ Grill includes cool grip wire handles, damper controlled firebox, utensil hooks, grease drain, and threaded mounting hole in front of lid for thermometer (thermometer not provided, hole is filled with a threaded plug). Finish is high-temp black paint. Not on state contract.


| Commodity Code | Price |
| --- | --- |
| (CO-18-4869) 650-24-184869 | $1,257.00 |


Warranty: TCI offers a standard manufacturing warranty to cover manufacturing defects on all our products.