Deep Fryer (Outdoor)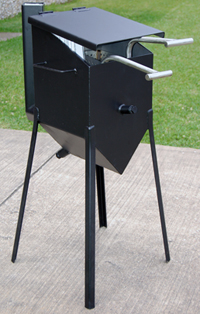 19" x 19" x 38.635" tall including 2 stainless steel fry -baskets. Constructed from 10 Ga. carbon steel, 16-3/4" x 12" x 12" cooking volume. Includes 1/4" round handles on each side, hinged lid, propane connection to burner tube, and coupling is provided for thermostat. Finish is high-temp black paint.




10" x 5" x 5.3" with 11-1/2" handle. Basket is constructed with 16 Ga. stainless steel, handle constructed of 3/4" wide stainless steel flat bar. Basket handle has 3/4" turndown on front for hooking on fryer to drain


Commodity Code
Price
650-24-051171 Basket
$17.50 each
650-24-051170 Deep Fryer without Basket
$309.00
650-24-051172 Deep Fryer with 2 Baskets
$344.00
For installation charges call 903-928-3112 for quote.

Warranty: TCI offers a standard manufacturing warranty to cover manufacturing defects on all our products.