Circle End Park Bench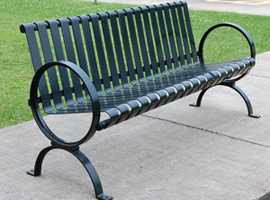 Commercial construction for heavy duty and public use. Fabricated from 2" and 2-1/2" x 3/16" flat bar, 7/8" round bar and 1-1/4" Schedule 40 pipe. 34"H x 18-1/2"W. Finished with primer coat and painted for outdoor use. Standard paint color "Forest Green". Special color request: Customer must furnish Sherwin Williams metal paint color code for special color and additional cost may apply.


Commodity Code
Price
4 FT. Circle 650-06-36190-4
$617.00
6 FT. Circle 650-06-36200-1
$816.00
8 FT. Circle 650-06-36210-0
$1,046.00
For installation charges call 903-928-3112 for quote.

Warranty: TCI offers a standard manufacturing warranty to cover manufacturing defects on all our products.