Octagon Acrylic Award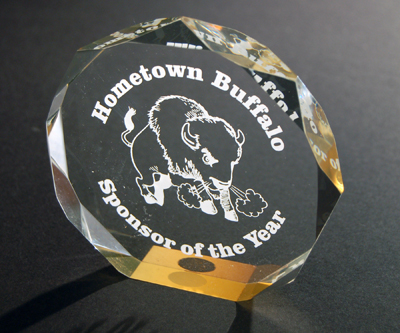 The Octagon acrylic award is free standing. It is 1" thick and is available in Clear with a Gold or Blue highlighted base. It is also available with a Blue, Red, or Green Marble colored background. The engravale surface is clear and may be laser engraved with your logo and text.
To order this product, please click here.
| Commodity Code | Size | Color | Price |
| --- | --- | --- | --- |
| OCT5B | 5 " | Blue | $40.00 |
| OCT5G | 5 " | Gold | $40.00 |
| OCT5BMAR | 5 " | Blue Marble | $45.00 |
| OCT5GMAR | 5 " | Green Marble | $45.00 |
| OCT5RMAR | 5 " | Red Marble | $45.00 |
| OCT6B | 6 " | Blue | $48.00 |
| OCT6G | 6 " | Gold | $48.00 |
| OCT6BMAR | 6 " | Blue Marble | $48.00 |
| OCT6GMAR | 6 " | Green Marble | $48.00 |
| OCT6RMAR | 6 " | Red Marble | $48.00 |
| OCT7B | 7 " | Blue | $55.00 |
| OCT7G | 7 " | Gold | $55.00 |
| OCT7BMAR | 7 " | Blue Marble | $54.00 |
| OCT7GMAR | 7 " | Green Marble | $54.00 |
| OCT7RMAR | 7 " | Red Marble | $54.00 |