Overstuffed Rolled Arm Chair & Sofa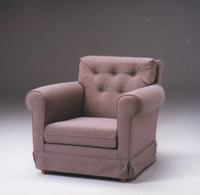 Our Overstuffed Rolled Arm chair and sofa, 2 & 3 place Sofas are designed to be sturdy, comfortable pieces that retain the clean line of traditional furniture. These three pieces come standard with moisture barrier under fabric upholstery upon request. Available in standard fabrics only. Throw pillows are also available. Comes standard with matching skirt.Customer shall specify stain: Mahogany (dark w/ red tint), Walnut (dark), Fruitwood (medium), & Natural Oak (light).
Please see Fabric Samples page for vinyl or fabric choices.

| Commodity Code | Description | Price |
| --- | --- | --- |
| 420-64-50005-3 | Overstuffed Rolled Arm Chair | $330.00 |
| 420-64-56001-6 | Throw Pillow for Overstuffed Rolled Arm Chair & Sofa | $7.00 |
| 420-64-50011-1 | Installation within C.O.G 12, 13, 14, 15, 16, 18 | $30.00 |
| | Installation Outside C.O.G | $40.00 |
| Commodity Code | Description | Price |
| --- | --- | --- |
| 420-64-52005-1 | 2 place Overstuffed Rolled Arm Sofa | $470.00 |
| 420-64-56001-6 | Throw Pillow for Overstuffed Rolled Arm Chair & Sofa | $7.00 |
| 420-64-52011-9 | Installation within C.O.G 12, 13, 14, 15, 16, 18 | $30.00 |
| | Installation Outside C.O.G | $50.00 |
| Commodity Code | Description | Price |
| --- | --- | --- |
| 420-64-54005-9 | 3 place Overstuffed Rolled Arm Sofa | $602.00 |
| 420-64-56001-6 | Throw Pillow for Overstuffed Rolled Arm Chair & Sofa | $7.00 |
| 420-64-54011-7 | Installation within C.O.G 12, 13, 14, 15, 16, 18 | $35.00 |
| | Installation Outside C.O.G | $50.00 |